In case you haven't figured it out, we're going on a cruise!
We'll celebrate our 35th anniversary in 2012. Our friends, Joan and Al, will celebrate their 40th and friends, Wanda and Dick, will celebrate their 45th. We had all discussed a special trip to celebrate these milestone anniversaries. One of the places we all wanted to see was Australia and New Zealand. After checking into prices, the cost was just too high for us to justify. So, we put the idea on hold.
We all did some checking and our plans have finally all come together. We found a Carnival cruise to Hawaii for a great price. Since we were all planning on meeting up in Arizona in January, the itinerary will fit right into our plans. It's a 15 day cruise out of San Diego.
We'll drive from Tucson to San Diego on January 19th and spend a night in San Diego. The hotel price includes parking our truck in their secure lot for the duration of the cruise. We're leaving our RV at the campground in Tucson.
We cruise for 4 days and then spend the next 5 days touring the Hawaiian Islands. We spend a day each in Hilo, Maui, Honolulu, Kauai and Kona. Then 4 days at sea with a stop in Mexico before returning to San Diego on February 4th.
Kevin and I have been to Hawaii twice before. Once in 1987 for our 10th anniversary and once in 1992 when Kevin earned a trip through work. Both times we didn't go to the big island. I have always regretted that we didn't go to Volcano National Park. Now we'll get the chance. We also haven't been to Kauai so there will be plenty of new experiences on this trip. I'm hoping to see lava flows and evidence of the active volcano. This picture is from the park's website.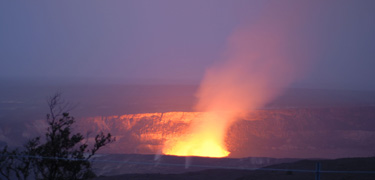 After 10 weeks at Amazon, I am so thrilled to be going on a trip. Our earnings will be enough to cover the trip plus our living expenses for the winter months.  Our hard work will finally pay off!
Don't wish upon a star – Reach for one!